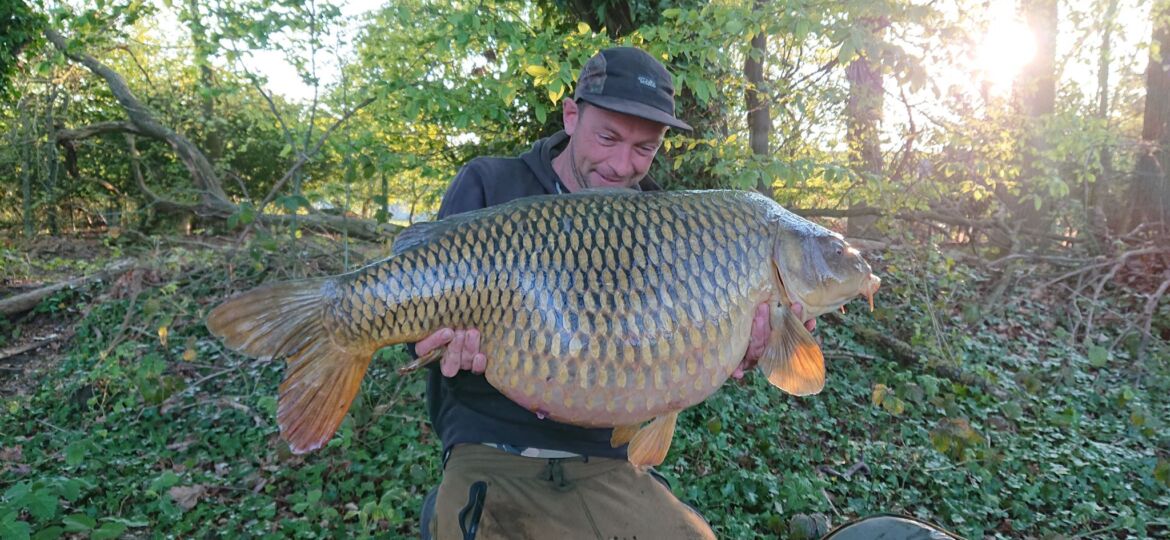 Lady Luck!!
After a year of fishing at a venue that only contained 6 known carp, myself and my good friend decided that it was time to find a new location to angle and hopefully benefit from more action than the previous season.  I knew of such a water that had a good stock of carp to around mid thirties plus a healthy stock of back up fish.
So that was the venue sorted with the added benefit of it only being thirty minutes from my house.  I started walking the fishery at the start of April, and its a fairly big lake of 60 plus acres which includes a day and night area. My first trip was a 24 hour session on a rather cold and frosty spring morning,  at first light, to my surprise I noticed a few shows in one particular area of the lake and so with that area marked, I had a starting point for my next trip.
My choice of bait for this year was the Milky Nut Pro!  The bait had only just been released and all the guys at Blakes were excited about the prospect of an all year round quality nut and milk protein type boilie. The next trip soon came around and it was the bank holiday Easter weekend which turned out to be a very warm one so we hatched a plan to fish the nights in the allotted night zone and spend the days in the shallower part of the lake where we knew the fish would relocate to in an attempt to warm up in the spring sunshine.
During the day we decided to go for a walk and prep a few areas with some of the new baits to see if anything would feed on them. We checked the zones several times and kept ourselves busy but on the last lap we got a nice surprise when we noticed a rather large common feeding confidently on the tasty nutty morsels.
A move was in order so we quickly packed down the kit and headed down towards the area where we had spotted the large common. Fortunately he had moved away from the spot which gave me time to prepare a couple of solid bags made up from small pellets mixed with crumbled up Milky Nut Pro boilies plus a few whole baits spread around the zone. Just ten minutes after putting the bait out I was surprised to receive a steady take on the right hand rod and from the second i picked it up i just knew it was a good fish. The fight was explosive in a confined swim but after a few desperate moments my mate bundled it into the net and blurted out "its the common"!!!
At this point as you can imagine, I was a very happy man as this was our first encounter at the lake and low and behold it was the first bite which resulted in the biggest common in the lake and a new personal best to boot!. To see the common feeding so confidently on the nut bait was also a major confidence boost and so began the start of a very interesting season which saw me land 24 stunning fish including another personal best mirror of over 40 pounds!! The amazing thing is that we knew very little about the lake before we joined and we had only heard of carp to mid thirties being present so you can imagine the sheer surprise when two forty plus fish graced our nets that spring. I will always look back with fond memories to that campaign and maybe one day we will return!
As my mate always used to say "when your luck is in…….its in"!!!!  Tight lines everyone.     Aaron Edwards
Aaron Edwards