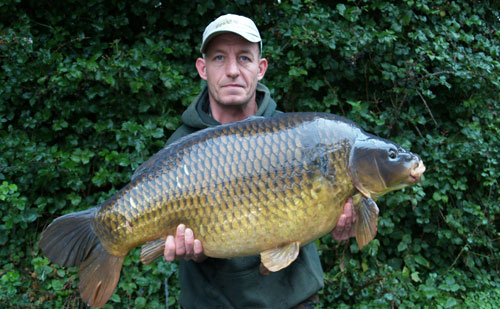 Ferenc Szakaly, Zak to everybody but his mother is 46 years old and has been carp fishing since 1984, although he  actually started fishing at the age of six, after his father won a rod and reel in a Xmas raffle. He did go to the Dark Side for about five years during his Army service and began match fishing, actually making the Army National Squad. He has fished for carp from as far as Wyreside Fisheries in Lancashire, all the way down to a large reservoir near Canterbury in Kent, quite a few of these are well known lakes others being rather publicity shy waters. His favourite venue has to be Wraysbury, for the history and some of its rather large well known inhabitants.
He's spent quite a few years (10+) fishing on the continent on rivers, canals and still waters in France, Belgium, Holland, Germany, Austria and Hungary this due to being stationed overseas. With a european personal best of 76 lbs 9 ounces for a mirror carp and 69lbs 10 ounces for a common.
His current UK personal best is a fish called "Dave" from Bluebell's Swan lake at 54lbs 12 ounces and a 46 lbs 4 ounce common from a publicity shy water. He has caught just shy of seventy (68) forty plus carp, nineteen from UK waters. He is currently fishing Elstow Pit 2 but will shortly be starting his yearly campaign on Linear, St John's after his nemesis "The Big Plated" !!!.
He is an approachable carp angler, that being said, leave him  till after a mug of tea, if he's just lost one.